Welcome to Our Ford Service Department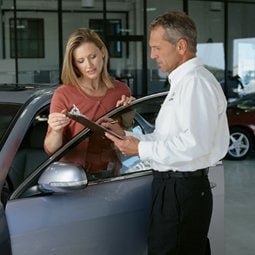 At Gregg Young Auto Center, our highly qualified technicians are here to provide exceptional service in a timely manner to give you the best possible Ford dealership repair. From oil changes to transmission replacements, we are dedicated to keeping your Ford or other make in great shape! Schedule an appointment for Ford dealership repair below, and keep your prized vehicle in great shape for years to come. Be sure to also dial our Service number at 888-894-8952 if you have questions about your Ford warranty or anything else related to Ford dealership repair!
Ford Dealership Repair Center in Newton, IA

Why is it so important to bring your Ford model to a dealership like Gregg Young Ford of Newton instead of an independent shop in the Grinnell area? For one, we specialize in servicing Ford models, and our technicians have the knowledge and tools necessary to appropriately diagnose and repair anything you bring our way. Plus, we can handle services covered under your Ford warranty, whereas you would have to pay out of pocket if you bring your car elsewhere. We also price ourselves on using authentic Ford parts for repair and replacement, so you won't have to worry about the quality or fit of the parts being fitted to your vehicle. Ultimately, turning to Ford dealership repair over the corner mechanic will better serve you and your Ford. Schedule service with us near Knoxville today!