Ford Battery Service
Ford Battery Service, Replacement, & Maintenance | Newton, IA
The battery is an essential component of every vehicle — without it, the car won't start. You can count on Gregg Young Ford Newton for all of your battery needs, whether you'd like to have your battery inspected, purchase a battery from our dealership, or have your battery replaced by our mechanics. Keep reading to learn more; you can find additional information on our Ford parts center and Ford service center pages. If you have any questions, give our service center a call at (641) 843-7148 or send us a message.
Gregg Young Ford Newton

Schedule Your Ford Battery Service Today

Schedule a service appointment to have our service team remove and dispose of your old battery, and then install a new battery. Gregg Young Ford Newton is a Ford Quick Lane® certified dealership, meaning you'll be in and out of the dealership in no time.
Order Your New Ford Battery Today in Newton, IA
At Gregg Young Ford Newton, we have a wide variety of batteries available, including Motorcraft® batteries. Easily order your new battery through our online form. You can also order parts by calling our parts department at (641) 820-2019.
View Our Latest Ford Battery Coupons Available
Buying a new battery doesn't have to break the bank, thanks to our Ford battery coupons available at Gregg Young Ford Newton.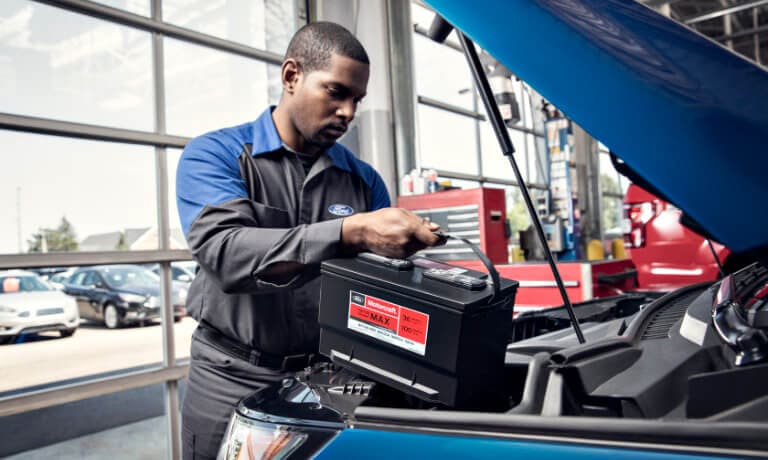 Common Ford Battery Problems & Issues
Car batteries usually last between three and five years, depending on usage, climate, and age. Some warning signs of a faulty battery include a slow to start engine, various electrical issues, and a lit check engine light. If you experience any of those issues, it's time to schedule a service appointment.
Below, our team compiled some tips for extending your car's battery life.
Limit short rides — short trips don't allow the battery to fully recharge
Keep the battery clean — wipe off any dirt and dust particles to avoid corrosion and rust
Limit electronic use while idling — charging your phone or listening to the radio when the vehicle is not in use can drain the battery
Make sure to turn off all lights when exiting — leaving your lights on accidentally can drain the battery
Car Battery Replacement in Newton, Iowa
How can we help?
* Indicates a required field